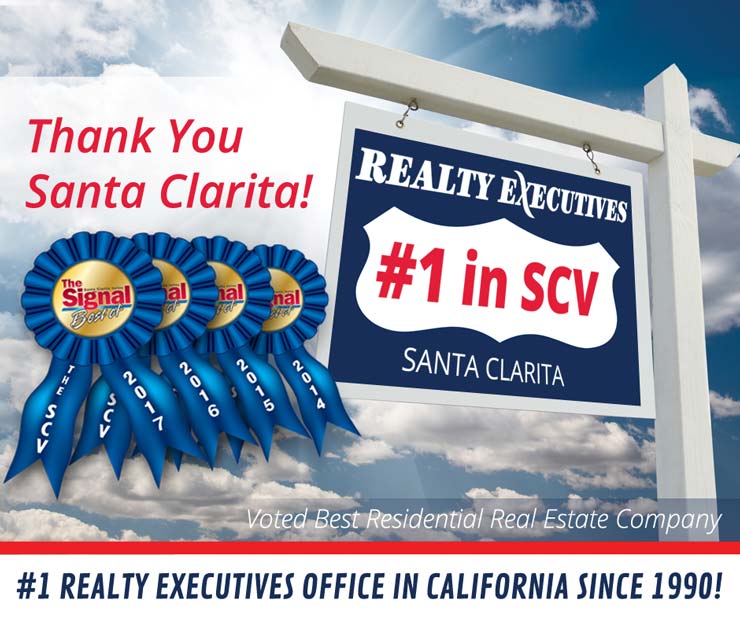 Article Published in Best of 2017 by The Signal
Dear Santa Clarita Residents,
Thank you for voting Realty Executives Santa Clarita the No. 1 Real Estate Company in the Santa Clarita Valley for the last four years! We appreciate and value each and every one of our Sales Executives, business affiliates, and most of all, our real estate clients who have made this achievement possible!
Realty Executives Santa Clarita has over 27 years of experience in Listing and Selling Real Estate in the Santa Clarita Valley and our neighboring communities. We are a full-service Real Estate company offering exceptional brokerage services with a legacy of excellence, integrity, and results. Since our inception in 1990, we have been the #1 Real Estate office in California for the Realty Executives franchise based on sales volume.
With an unparalleled local market presence and a commitment to providing the highest level of client service in the industry, Realty Executives Santa Clarita is comprised of five office locations and a powerful sales and marketing network of 300 Sales Executives who are focused on uniting buyers and sellers together within a seamless real estate transaction.
Each of our Sales Executives is committed to providing superior service through the utilization of innovative marketing strategies, cutting-edge technology and sharing unique insight into the variety of Santa Clarita neighborhoods and market trends. We continue to build our market knowledge of current community development and property offerings through our exclusive office meetings and SCV property caravan tours of our newest property listings.
Realty Executives Santa Clarita is proud to be a part of the Santa Clarita Valley community. Our company, as well as many of our individual Executives, take pride in our ongoing commitment to giving back to many local and national charities. We feel fortunate to work within and enjoy Santa Clarita's quality of living, but even more fortunate, to serve the residents of the Santa Clarita Valley with their real estate needs.
We look forward to the opportunity to provide exceptional real estate service to you. For more information, please visit our website at www.REXSCV.com or call 661 964-1600.